I believe you should had heard about this event, or may be seen some flying banner along the way, standing among those election flag. The Star had organized the educational fair at this coming weekend at PISA, Penang.

They had completed the same mission on bringging all the potential local and foreign exhibitors in one hall, providing all the information we need. Now, they had move North to us, Penang.


The Star Education Fair
Date: 1st - 2nd March 2008
Time: 11.00am - 7.00pm
Venue: PISA, Penang
The Star Education Fair 2008 will provide options and opportunities for students to scout from courses ranging from diploma, certificate, degree, postgraduate, specialist courses, distance-learning/off campus programmes to twinning programmes and 3+0 foreign degree programmes to study in Malaysia and overseas all under one roof.

Students and their parents will benefit from first-hand information provided by qualified representatives from their respective educational institutions pertaining to subject entry requirements, course modules, course fees, accommodation and other relevant information...

quoted from The Star
Beside that, there will be career talk along the event and here are the schedule. So, don't miss any one of them which may change you and remaining of your life.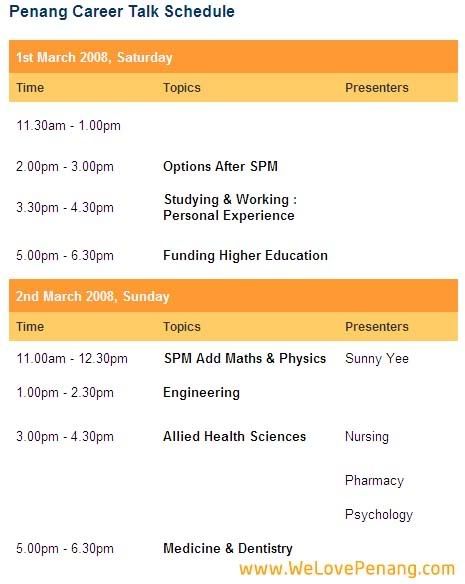 This the PISA layout and

map

to get there. See you there....