Dear readers,

IT IS TIME to MAKAN!!!! I wonder if you have ever faced the same problem like I do. Every time when my friends asking me for lunch, the first question pop up is "Ciak Hami" (what to eat in hokkien) or "Tak Lok Ciak" (where to eat)... I am sicked with this as it is wasting time discussing where to have lunch. again and again.....

The reason being that we had tried most of the restaurants at Bayan Lepas, Sungai Ara, Bayan Baru, Sungai Nibong...... so it is time to look for new location..

If you just like me.. then why don't you drop by Queensbay Mall and pay a visit to one of the newest restaurant:

MACEDOINE Dinning

. They served western food, such as pasta, chicken chop, fish and chips and etc. It is located at left side of the entrance on South Wing of Queensbay Mall or right above the Old Town.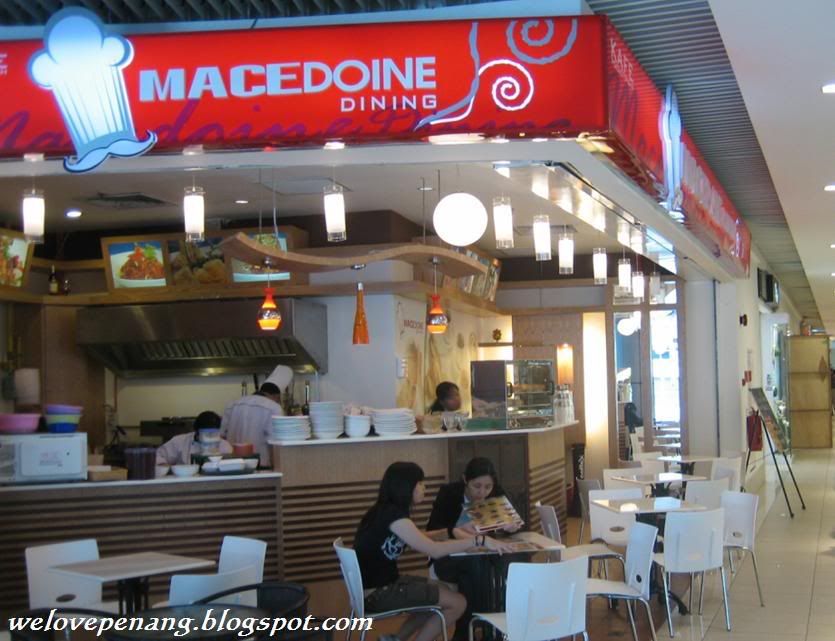 MACEDOINE Dining


Business hours:
10.30am - 10.30pm
Tel:
04-645 5872
H/P:
016-4673632 (Michael)
Email:
michaellau11@yahoo.com
Address:
GF-126, Queensbay Mall, 11900 Bayan Lepas Penang
Never heard of the restaurant? Good or not? Expensive or not? How is the service? All those funny yet valid questions keep on popping up. But
it didn't stop us from trying
. I personally had been there twice with 2 different group of people and seem everyone is satisfied with the food, service and the best thing of all is the
PRICE
....
SET LUNCH for
RM 10.80+
, which included soup of the day, a drink and the main course. But if the boss can consider adding a dessert... then it will be PERFECT......right?
Sound good?
Not only that.. it also
tastes good
. I can't say it is best in town, but for me.. the environment, the service, the food at that price.... I have nothing to complaint about. At least another good place for lunch and dinner at Queensbay Mall.
Who are they... Emm.. I had a chance to talk to one of the owner, Michael who recently came back from Australia and I assume he had been equipped himself with all those culinary skills from the restaurant over there.... I assume la.... and 100% Penang Kia (Kids from Penang).
Click here
to get their name card.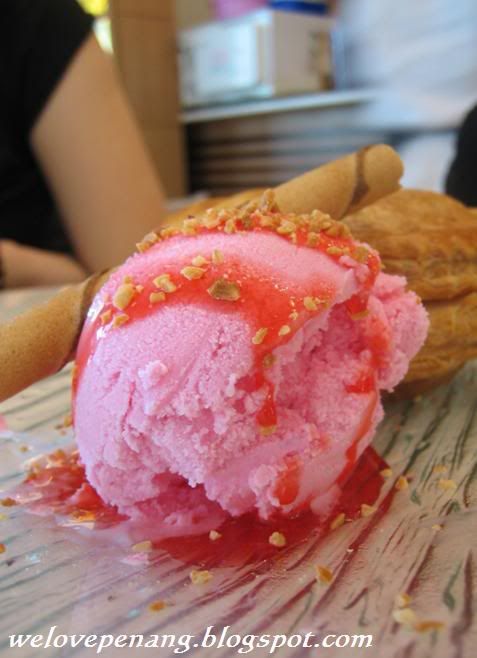 During our first time there, we had ordered a chicken pie with ice-cream. Overall the taste is fine, but I had one complaint about the plate. I can't get hold of the plate when I wanted to cut my chicken pie... really GERAM... as the plate keep on spinning on the table whenever you try to cut the pie...... Did I feedback to the boss? OF COURSE I DID, Hopefully they can improve it.....
We couldn't get any set lunch on first visit as it was weekend. So we ordered the "
Fisherman Basket
" and the "Seafood Spaghetti". Both of them did meet my expectation. For the pasta, I personally give thumb up for that. But it is not perfect la still it is more than enough for me.....
Seafood Spaghetti and Fisherman Basket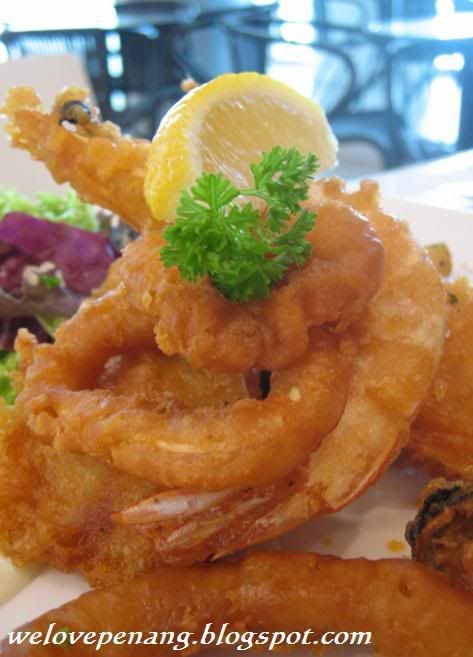 3 of us were satisfied with the food and service, so i decided to pay another visit with another gang of friends..... This round we try the set lunch, we had ordered different set, so we can try all the set lunch....
Set 1 - Grilled Chicken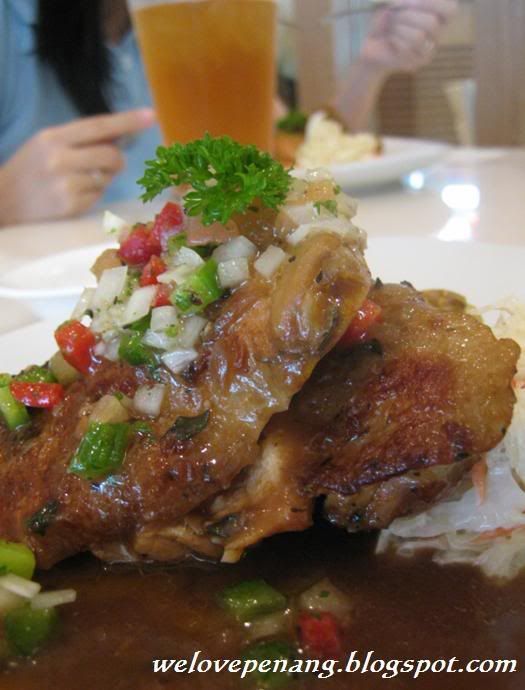 Set 3 - Fisherman Basket
Set 4 - Fish and Chip
Set 7 - Grilled Fish
Menu:
1.
Set Lunch